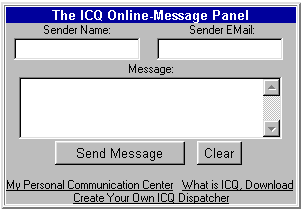 We're back with yet another ICQ tool for your site! Introducing the ICQ Online-Message Panel
Create your own ICQ ICQ Online-Message Panel, install it on your site and enable your site visitors to leave you messages and notices. If you're already familiar with ICQ communication services then this one works pretty much like the ICQ World Wide Pager. If, on the other hand, you're not familiar with our services, this panel when installed enables your site visitors to send you messages and notify you through your own site. If you're online you will be paged immediately. If you're offline the message will await your log into the 'Net.

How do you do it?

It's very simple!
Fill in all the fields in the form below:
ICQ# - so the messages will be forwarded to you through the ICQ Network.
Select colors for the Background and the Fonts. Make sure that you do not choose the same color for both or the writings won't show.
Click Preview to see the results of your design.

A smaller window will open showing it to you. If your not pleased, change the colors and click Preview again, until satisfied.
When you're done, click Create My ICQ Online-Message Panel button.

An HTML script will appear in the text area below.
Select (highlight) all of it.
Copy (press Ctrl C)
Go to your Web page and Paste (Ctrl V) it where you would like it to be.
Save your page and the ICQ ICQ Online-Message Panel is installed.
Nothing to it!

NOTE: The Preview button works only for browsers Netscape 3 and higher and Explorer 4 and higher. If you have a different browser fill in the information in the fields, click Create My ICQ Online-Message Panel button.
Your ICQ# (is required):

Background Color:

Font Color:


Copy and paste on your web page